The Congregation of Carmelites of Mary Immaculate (CMI) is the first indigenous religious congregation in the Catholic Church of India. Fr. Thomas Palackal, Fr. Thomas Porukara and Fr. Kuriakose Chavara of the Syro-Malabar Church of apostolic origin, who felt that "a lot of good had not been done due to the absence of a Thapasu Bhavanam (House of Discipline) and a Darsana Veedu (House of Vision)", had the challenging vision of providing spiritual leadership and fostering unity and growth in the Kerala Church. With the permission of Bishop Maurelius Stabilini, the then Vicar Apostolic of Verapoly, they founded a religious house at Mannanam on 11 May 1831. Jacob Kanianthara who later became the first professed brother in the Congregation, cooperated with the founding fathers from the beginning. The name of the Congregation was 'Servants of Mary Immaculate'. Soon, some more priests and clerics joined the founding fathers and thus a small religious community took shape. On 8 December 1855, the religious Congregation was canonically approved and the first eleven fathers made their religious profession. Blessed Chavara, the only surviving founder, was appointed the first superior of the Congregation. Since, during the early period of the religious Congregation, the Vicars Apostolic of Verapoly were Carmelites, the congregation had come under the Carmelite influence; hence, the rules of the Carmelites with some modifications were given to them in 1855.
Continued http://cmi.in/CMIStatistics.aspx

Thank you Fr. Sebastian
Your grateful flock at
St. Madeleine Parish will miss you.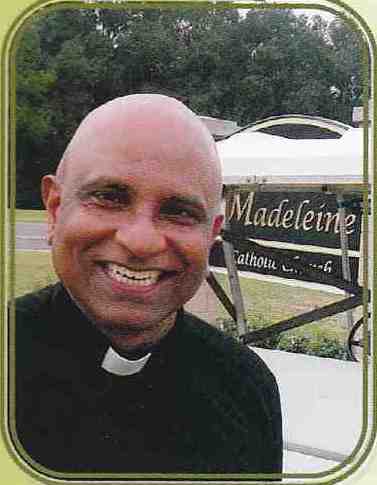 Father Sebastian is a member of The Congregation of Carmelites of Mary Immaculate (CMI)
Renovated Our Main Church Building

Transformed original 1930's church into
Santa Fe Shrine of Our Lady of La Leche

Added Family Life Center

Added Memorial Garden

Added Reflection Walks

Added Outdoor Stations of the Cross

Added Grotto in Honor of Mary

Added acreage to West

Added Memorial to Unborn Innocents

Added Memorial to Military Sacrifice.
************************
Exemplifies love and humility in his responsibilities
as PASTOR and friend.
Demonstrates, by his example, a true Christian Life.
Thank you Father Sebastian for doing God's work so well.
Thank you for all your love and help.